Feb 20 2015
Follow @CSA_Speakers
Co-Recipient of Nobel Peace Prize 2014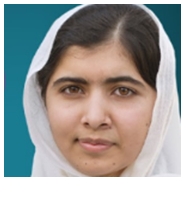 Malala Yousafazai is a courageous advocate for universal education and girls rights. Targeted for her brave activism, in 2012 the Taliban boarded her school bus and shot her and two other girls. After the shooting, Malala was flown from her home in Pakistan to the UK to recover. She is now back at school and continues to campaign for every child's right to education. In 2014, at the age of just 17, Malala received the Nobel Peace Prize for her struggle against the suppression of children and young people and for the right of all children to education.
"A global symbol for girls' rights and global education"

In detail

Malala first came to attention in 2009 after she wrote an anonymous diary for BBC Urdu about life under Taliban rule in north-west Pakistan. The following year a journalist from the NYT made a documentary about her life and Malala rose in prominence giving interviews in print and on TV. In 2013 she spoke at the headquarters of the United Nations to call for worldwide access to education. The Times Magazine named her One of the Most Influential People and was awarded the EU's prestigious Sakharov human rights prize.


What she offers you

Malala brings awareness to world and business leaders to the social and economic impact of education. She empowers people to raise their voices, to unlock their potential and to demand change.


How she presents

Her eye-opening message and her extraordinary courage make Malala Yousafazai an acclaimed ambassador for human rights and education.
Comments Off on Malala Yousafazai