Nov 11 2016
Follow @CSA_Speakers
Record Producer, Songwriter, Radio and Club DJ, Television Presenter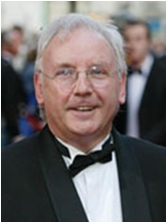 Pete Waterman rose from a working class Coventry kid to the global pop phenomenon today, producing and writing over 200 hit songs in the last 25 years, including smash hits for Kylie Minogue, Rick Astley and Steps. In recent years, Pete's celebrity status has soared thanks to his involvement in TV talent shows Pop Idol, Pop Stars – the Rivals and Pop Idol 2. A very successful entrepreneur, Pete has many business interests.
"Music Legend"

In detail

A late developer who couldn't read until he was thirteen, Pete started his working life as a fireman in Wolverhampton in 1961. He subsequently worked as a gravedigger and for General Electric, where he became a shop steward aged 19. As a boy, born in 1947 amidst the war-shattered ruins of Coventry, he had sold coal from the back of a pram to augment the family income. Most people will know Pete from his success in the 1980s when he was a member of the highly successful music trio Stock Aitken Waterman.


What he offers you

After spending more than four decades in the entertainment business, Pete Waterman's depth of knowledge and his breadth of experience is unsurpassed. His passion, drive and talent have helped ensure that he remains a musical force to be reckoned with. Amongst his many awards and accolades he has been a winner of British Phonographic Industry Award for Best British Producer in 1988 and was awarded the O.B.E. in the 2005 Queen's New Years Honours List for his services to music as composer and producer.


How he presents

Pete Waterman's speeches are full of anecdotes and little-known pop facts about his incredible journey that took him to the multi-millionaire record producer and celebrity status he now enjoys.
Comments Off on Peter Waterman