Jun 07 2013
Follow @CSA_Speakers
Former President of the European Central Bank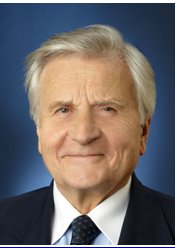 Jean-Claude Trichet is a French civil servant who has been the President of the European Central Bank until 2011, a position he held since 2003. He is also a member of the Board of Directors of the Bank for International Settlements. Trichet ranks 5th on Newsweek's 2009 list of the world's most powerful along with Ben Bernanke (4th) and Masaaki Shirakawa (6th) to form what Newsweek termed the "Economic Triumvirate".
"A leading authority on global economics"

In detail

He was assigned to various posts at the Ministry of Finance in the General Inspectorate of Finance and later in the Treasury Department. Jean-Claude was made an adviser to the cabinet of the Minister of Economic Affairs in 1978, and then an adviser to the President of the Republic. He was the Chairman of the Monetary Policy Council of the Banque de France as of 1994, a member of the Council of the European Monetary Institute from 1994 to 1998 and thereafter a member of the Governing Council of the European Central Bank. He is a Commandeur de la Légion d'honneur and has been awarded several foreign honours.


What he offers you

Jean-Claude is quite a controversial figure who speaks about the need for the imposition of a set of rules, regulatory authorities, informal groupings and cooperation mechanisms that he calls "global governance" in order to avoid another global financial crisis.


How he presents

Jean-Claude's speaking style coupled with an incisive understanding and enlightened capacity to explain and discuss global issues has contributed to his high popularity and reputation.
---

Watch a video presentation of Jean-Claude Trichet

---

Topics
World Economy – Stability and Growth
Globalisation
International Monetary & Trade Policies
---
Contact Jean-Claude Trichet for keynote speech:
To book Jean-Claude Trichet call: + 359 888 308180
Send an email
Or fill in the form below:
---