Feb 27 2012
Follow @CSA_Speakers
Former Director General of the International Atomic Energy Agency (IAEA), Nobel Peace Prize Winner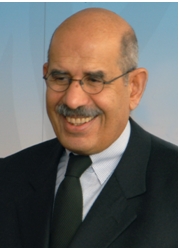 Mohamed ElBaradei is the former Director General of the International Atomic Energy Agency (IAEA), an intergovernmental organisation within the United Nations system, Nobel Peace Prize Joint Winner (with the IAEA) in 2005 and a keynote speaker. He has also served in various roles within the United Nations in New York, including Director of its Legal Division, head of the Division of External Relations, and Assistant Director General for External Relations.
What our clients say after booking Mohamed ElBaradei:
"I extend to you my heartfelt gratitude for dedicating your time to the Symposium, in which you helped the our nuclear industry move a step forward toward a more successful future."

In detail

Dr. ElBaradei gained his initial law degree at the University of Cairo and subsequently a Master's degree and Doctorate in international law at the New York University School of Law. He began his diplomatic career in the Egyptian Ministry of Foreign Affairs and belongs to a number of professional associations, including the International Law Association, the American Society of International Law, and the Nuclear Law Society.


What he offers you

As a diplomat and distinguished senior member of the IAEA secretariat Dr. Mohamed ElBaradei offers audiences the knowledge gained from his vast experience into global leadership, world affairs and atomic energy.


How he presents

Mohamed ElBaradei's concise analysis and remarks are memorable, eye opening experiences. He captivates audiences with his charisma and strength of character providing far-reaching insights that transform audiences. He is also part of our

Most Popular keynote speakers list

and

Top Leadership speakers

.
---

Watch a video presentation of Mohamed ElBaradei
---

Topics
Leadership
The Future of Nuclear Energy
The Global Security Landscape
World Affairs
Global Leadership
---
Awards
The Franklin D. Roosevelt Four Freedoms Medal
The James Park Morton Interfaith Award
The Academy of Achievement Golden Plate Award
The Raymond "Jit" Trainor Award from Georgetown University for distinction in the conduct of diplomacy
The Karlsruhe "Mund Auf" award
The Muslim Public Affairs Council (MPAC) Human Security Award
Honorary Patron of the Philosophical Society, Trinity College, University of Dublin
Greatest Nile Collar – the highest Egyptian civilian decoration
---
Contact Mohamed ElBaradei for keynote speech:
To book Mohamed ElBaradei call: + 359 888 308180
Send an email
Or fill in the form below:
---