Dec 22 2017
Follow @CSA_Speakers
Leading Millennial Expert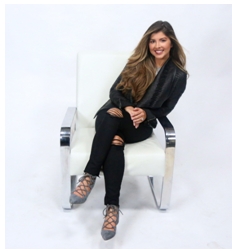 Chelsea Krost is one of America's leading Millennial influencers, LinkedIn Rated Top 20 Millennial marketing and brand strategists, a sought-after keynote speaker, Forbes Contributor, and the #MillennialTalk chat host whose influence shapes marketing strategies of not only small businesses but Fortune 500 corporations.

"Unlocking the mysteries of Millenial mindset"


In detail

Chelsea sat on the board of Cosmopolitan Magazine as a Millennial Board Member and has been a brand ambassador/spokesperson for many notable and diverse brands such as Intel, MasterCard, IBM, Suave, Skype, TurboTax, Illy Coffee, and The International Rotary.Chelsea was the youngest broadcast radio producer and talk show host to create a program for Millennials by Millennials when she was just 16, back in 2007.Teen Talk Live was innovative and ahead of its time. Chelsea led the show into success then started producing and appearing in TV spots first on Local News and then onto National News outlets.


What she offers you

Chelsea is hot on the speaker's circuit today as a panellist and keynote speaker representing her generation. She shares business start-up tips and emphasises the importance of establishing a firm foundation with which to build upon. She provides a much needed voice to Millennials and helps others understand their generation.


How she presents

Chelsea is an inspirational and informative speaker on life in the millennial world. Chelsea is truly a consummate professional and delivers a compelling story about life in the world from a different point of view, a different age and completely different mindset.
---

Watch a video presentation of Chelsea Krost

---

Topics

Dive Into The Millennial Consumer Mindset: Top Modern Marketing Tactics of 2018
Proven to Get Results!

Hottest Marketing Strategy of 2018: Influencer and Micro-Influencer Marketing 101

BOOST Your Businesses With Proven New Age Brand Building, Marketing, and Social Media Tactics

How To Increase Engagement and Bridge the Gap Between Gen X and Gen Y in The Workplace

Move over Millennials Gen Z-ers Have Arrived. Understanding the Next Generation
---

Contact Chelsea Krost for keynote speech:
To book Chelsea Krost call: + 359 888 308180
Send an email
Or fill in the form below:
---