Aug 21 2017
Follow @CSA_Speakers
Chief Operations Officerat 42 USA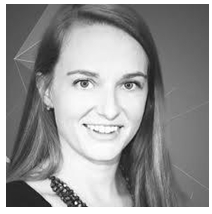 Brittany Bir runs a coding college which operates without teachers or lectures. New coding colleges have ditched the lecture in favour of peer-to-peer learning and project-based learning, in which students work together on real-world projects like building a website or a computer game.
"42 – The Tuition Free University"

In detail

Brittany grew up in Temecula, California. She earned a Bachelor's degree in Spanish with a minor in Global Studies from California State University, Monterey Bay before completing a Master's degree in European Studies at Université Sorbonne Nouvelle in Paris, France. Simultaneously working as an English conversational professor and administrative assistant in The Paris Graduate School of Digital Innovation, she discovered a passion for coding.Immediately intrigued by 42's innovative pedagogy, she completed the program along with the first, incoming, graduating class in Paris, France.42's name is a reference to the science fiction book 'The Hitchhiker's Guide to the Galaxy' written by British author Douglas Adams: in the book 42 is the Answer to the Ultimate Question of Life, the Universe, and Everything.


What she offers you

Brittany says 42's graduates will be better able to work with others and discuss and defend their ideas – an important skill in the "real world'" of work.This is particularly important in computer programming, where individuals are notorious for lacking certain human skills.


How she presents

Brittany has participated in numerous speaking opportunities, through different conferences, events and press relations such as the Reimagine Education Conference and recently the 10 Aniversario de Plan Ceibal in Uruguayon 42's role in the Maker Culture, with regards to hands on learning curriculums.

---

Watch a video presentation of Brittany Bir

---

Topics

The Future of Education

Schools with startups mindsets

The Sharing Economy

Coding & Programming
---

Contact Brittany Bir for keynote speech:
To book Brittany Bir call: + 359 888 308180
Send an email
Or fill in the form below:
---