May 10 2017
Follow @CSA_Speakers
Multi Award Winning Young Entrepreneur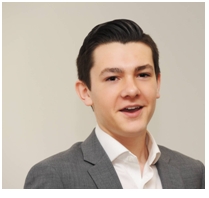 Ben Towers is a young entrepreneur who started his own web design company at the age of 11. He has grown and developed his businesses to cover branding and a thriving social media consultancy. Widely acclaimed by the British business community, he's been named NatWest Entrepreneur of the Year.
"One of the UK's most exciting entrepreneurs"
Sir Richard Branson


In detail

At only 18 years old Ben runs a successful marketing agency (Towers Design) working with leading brands all over the world to engage them with the next generation via social media and effective campaigns. He was named by The Times at the top of their Super Teen Power List in the world. Ben adopts a somewhat different view of business as most may believe. He lives to the statement, "running a business is all about enjoying yourself and solving a problem.Following Ben's success, he has been invited to share his story as a keynote speaker at some of the world's largest conferences, appear on radio shows all around the globe and star in numerous TV shows (most notably BBC Breakfast and CBBC show Pocket Money Pitch).


What he offers you

In his conferences, Ben offers his invaluable insightson the social media landscape going into what's new, what's fading from popularity, and who's using what platform. He uses his extensive network, experience and creativity to consult in businesses of all sizes helping them appeal to millennials and also work on the technical side of the business to ensure it is as innovative and current as possible.


How he presents

Ben shares his inspirational story in a captivating and enjoyable way. He isa powerful and influential teenager with an amazing story to share and following this is highly sought after.
---

Watch a video presentation of Ben Towers

---

Topics

Social Media Strategies

Branding& Marketing

Digital Design

IT & Online Business

The Future of Innovation

Entrepreneurship
---

Contact Ben Towers for keynote speech:
To book Ben Towers call: + 359 888 308180
Send an email
Or fill in the form below:
---