Jun 01 2012
Follow @CSA_Speakers
Director and Chief Economist Centre for Global Energy Studies and Globalization speaker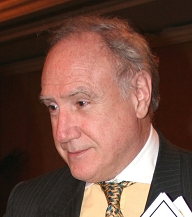 Dr Leo Drollas is currently the Director and Chief Economist at the CGES. He has dealt with subjects as diverse as oil's shipping needs, oil prices in the long run, oil speculation versus fundamentals, the demand for aviation fuel, US gasoline demand, oil inventories and prices, oil export tariffs, oil prices and production, oil capacity utilisation, oil-quota policies, the connection between desired oil stock cover and oil futures prices, and many more.
"One of the world's leading experts on oil price trends and price forecasting"

In detail
Leo Drollas joined British Petroleum in 1977. At BP he managed the energy and economic modelling team in the company's Corporate Planning Department and was responsible for many studies on various aspects of the oil market. Whilst at BP, he was seconded for two years to the Confederation of British Industry, where he held the post of Deputy Director of Economics and completed two major studies. He has written many articles and studies on oil, energy and the economy in general. He has also spoken at numerous conferences on diverse oil-related subjects.
What he offers you
Dr Drollas is highly qualified to offer audiences detailed insights into the current state of oil prices, what the future holds for the oil industry and what the current escalating oil prices will mean for businesses around the globe over the next 20 years.
How he presents
Highly sought-after at leading energy conferences Dr Drollas' presentations are based on his extensive and ongoing research at the Centre for Global Energy Studies and offer the most comprehensive and up to date information available.
---

Watch a video presentation of Leo Drollas

---
Topics
When Will the Present Oil Crisis End?
The Future of Oil and Gas Markets and Price Trends
Global Energy and the Oil Industry
---
Publications
1989
The Devil's Gold
Download speaker's profile in .pdf
---
Contact Dr Leo Drollas for keynote speech:
To book Dr Leo Drollas call: + 359 888 308180
Send an email
Or fill in the form bellow:
---
Comments Off