Nov 03 2008
Follow @CSA_Speakers
Trend Spotter Extraordinaire and Innovation speaker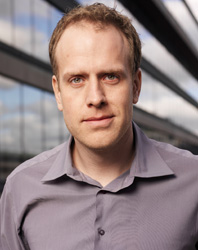 Magnus Lindkvist is a future trends speaker who offers insightful and tangible solutions to companies wishing to grow their business in an organic way. He is the founder of the trend agency Pattern Recognition who helps companies to make sense (and money) out of the future. Furthermore, he is the creator of "Trendspotting and Future Thinking", one of Europe's first academically accredited courses in the subject.
"Where the day takes you, that's where you're going"

In detail

Previously he worked as a brand strategist at Differ and for the brand strategy agency, Grow. As a member of TED and The Long Now Foundation, Magnus combines a passionate interest in the future with a strong desire to share insights that has made him one of Europe's most sought-after future trends speakers. He is also a course director at Stockholm School of Entrepreneurship, a collaborative partnership between Stockholm School of Economics, The Royal Institute of Technology, The University College of Arts, Crafts and Design and Medical University Karolinska Institute.


What he offers you as a keynote speaker

Magnus Lindkvist will inspire and provoke you into better future-thinking. He considers what is happening now and in the future and how it affects how we do business. He gives businesses a tangible and simple call to action on how to adapt to these future trends to develop and market their products and services.


How he presents as a keynote speaker

Magnus is an energetic and exciting future trends speaker who in his fun and fact-filled tailored presentations, uses humour to deliver great insights about the trends that will shape your business.
---
What our clients are saying

"Magnus did a good job and his presentation was very good."
---

Watch a video presentation of Magnus Lindkvist
---
Topics
Present and Future Trends
The World's Best Ideas Next Year
Innovation and Creativity
Consumer Trends and Areas of Economic Growth
---
Books
2015
The Future Book – 40 Ways to Future-Proof Your Work and Life
2013
Trendspotting – The Basics (with Alf Rehn) (
2013
When The Future Begins: A guide to long-term thinking
2011
The Attack of the Unexpected
2009
Everything We Know Is Wrong: The Invisible Trends that Shape Business, Society and Life
---
Contact Magnus Lindkvist for keynote speech:
To book Magnus Lindkvist call: + 359 888 308180
Send an email
Or fill in the form below:
---