Oct 21 2016
Follow @CSA_Speakers
Williams F1 Development Driver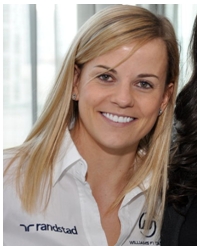 Susie Wolff is the only female F1 racing driver. She is a development driver for Williams F1 and an ambassador for Wings for Life and FIA Women in Motorsport. Sheis much more than just a great race car driver; she is a brilliant role model for women making headway in a profession dominated by men. In 2013 Susie was awarded an Honorary Fellowship at the University of Edinburgh in recognition of her role as an ambassador for women in sport
"The fastest woman in the world"

In detail

Her debut came in 2001, when she started with Formula Renault. In 2003, she was selected as the BRDC Rising Star and qualified as the only woman for the final round of the coveted McLaren Autosport BRDC Young Driver Award. The following year, she made the leap into the British F3 International Series. In 2006, Susie had her debut in DTM and finished her first race within the top 10. In 2012, she was appointed development driver for the Williams F1 Team. Getting the FIA Super Licence in 2014, Susie was allowed to finally really be part of Formula 1. In November 2014 Williams announced that Susie will be stepping up to the position of Official Test Driver for Williams Martini Racing for the 2015 Formula One season.


What she offers you

Susie shares with audiences worldwide how it is possible to succeed in all areas of the sport. She is doing a magnificent job at promoting the sport to women, considering it is generally thought of as a man's sport.


How she presents

Susie's presentations are packed with ideas, constructive suggestions and real life examples. Audiences always find them revealing, exciting, inspiring and brilliant.