Jul 31 2015
Follow @CSA_Speakers
Professional Racing Driver, The Stig, TV Presenter, World Record Breaker & Hollywood Stunt Driver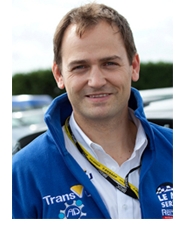 Ben Collins is one of Britain's most renowned and unusual sportsmen. He is most famous for his role as the Stig, but he is respected as a focussed and successful businessman. Ben has put every known supercar to the test, racing the world's greatest cars, from the Bugatti Veyron and Ferrari 430 Scuderia to a London Routemaster. From the anonymity of his white helmet he taught some of the world's most famous stars how to lay down a fast racing lap, managed to catch a parachutist in his moving car and coached a blind man how to take on a chicane.
Ben's career has been touched by the unusual, the extreme and the unknown

In detail

As a journalist, Ben writes for Autosport and The Sunday Times and is currently a presenter for Channel Five's Fifth Gear program. Ben has commanded James Bond's Aston Martin in the last James Bond film, Quantum of Solace, and performed as Nic Cage's driving stunt double. He has presented a TV show for the BBC called Extreme Teens and has carried out some daring stunts on numerous car shows such as Driven, Top Gear and Pulling Power. He was hired by Hornby plc for several years as the Brand Manager for Scalextric, during which time sales of the model cars rebounded under his direction.

What he offers you

Ben is an expert on cars and above all on driving and the mental aptitude required to be a professional. He is able to get across what it really feels like to go racing and relate his knowledge of personal development to everyday life. The concept of winning was etched into his ethos from a young age and the determination to succeed has remained a constant in his life. Ben understands the corporate world well and spends a great deal of time hosting corporate events and track days and is astute to the relationships between companies.

How he presents

Ben's boundless enthusiasm, interest in all things and never say die attitude makes him an endearing guest and a captivating speaker. His unique and ongoing career exemplifies making the most of every opportunity and his story relates how personal development and great commitment will overcome all the odds.