Oct 31 2014
Follow @CSA_Speakers
Prime Minister of Great Britain 1990 – 1997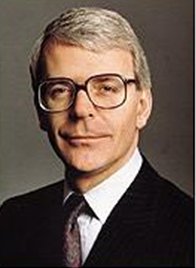 The Rt. Hon John Major, conservative member of the Parliament for Huntingdon was appointed Prime Minister, First Lord of the Treasury and Minister for Civil Service on 28 November 1990, following his election as Conservative Party leader the previous day. He remained in office until 1997. He talks about his leadership triumphs and defeats and his work with a diverse range of inter-national figures including George Bush, Bill Clinton, Mikhail Gorbachev, Boris Yeltsin, Helmut Kohl, and Nelson Mandela and he offers invaluable insight into how political power is exercised both in the United Kingdom and across the globe.

In detail

After leaving school John Major embarked on a career in banking, it was whilst working in finance that his interest in politics began to grow and in 1979 he was elected as the Conservative MP for Huntingdonshire. From 1975 to 1983, he was a member of the board of Warden Housing Association maintaining a longstanding interest in the housing market and especially the issue of voluntary housing.

What he offers you

He joined the government in 1983 as assistant government whip. In 1987 he entered the Cabinet as Chief Secretary to the Treasury when he also became a member of the Privy Council. He served as Foreign Secretary from July to October 1989, subsequently becoming Chancellor of the Exchequer. He continued in this post until his appointment as Prime Minister in 1990. In 1999 Mr Major published his autobiography which is inversely regarded as one of the most personal and revealing ever written by a former British Prime Minister. The remarkable story of his life, from an extraordinary childhood to becoming an influential leader at the forefront of global politics and subsequent fall, is candid, scrupulous, and unsparing.


How he presents

John Major is in great demand as a speaker around the globe by corporations eager to benefit from his strong leadership skills and political acumen.