Mar 27 2015
Follow @CSA_Speakers
Multi-award Winning Designer, Fashion Entrepreneur & Businesswoman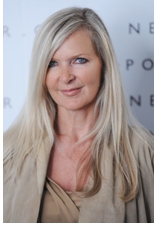 Amanda Wakeley OBE launched her signature label in 1990 and over the last two decades she has developed an international reputation for creating stylish, supremely luxurious womenswear and accessories. Scarlett Johansson, Demi Moore, Helen Mirren, Kate Winslet, Kate Beckinsdale and Charlize Theron are amongst her fans. Amanda has also had the honour to dress many members of Royal families, most notably Queen Rania of Jordan and the late Diana, Princess of Wales.
"One of Britain's best-loved designers"

In detail

Amanda Wakeley is entirely self-taught and was driven in her desire to make clothes from, she says, the moment she grew tall enough to reach the foot of the sewing machine in her parents' home. She cut her business teeth whilst working in America for an influential New York designer and retailer but kept up her own designs and soon gained the confidence to launch her own brand. Having started with ready-to-wear fashion, the Amanda Wakeley collection now encompasses bridal gowns and fine jewellery as well as fashion accessories. She opened her flagship store on the Fulham Road in 2009, and her ranges are stocked in Harvey Nichols, throughout the UK and at Harrods in London. The brand is also represented throughout Europe, America and the Middle East.

What she offers you

Amanda Wakeley's rise to business success has not been without tough challenges and she now uses her considerable talents to help raise both funds and awareness for a number of charitable causes. She is best known for her signature dresses and luxurywear and was a great influence on Princess Diana, when she was developing her working wardrobe in the early 90's. With a thriving business in the Middle East, Australia, the United States, Singapore and Europe, she provides invaluable insights into current trends and movements in the luxury clothing world.

How she presents

A founding co-Chair of Fashion Targets Breast Cancer and fashion industry expert, Amanda Wakeley is an accomplished, confident and highly inspirational speaker.