Aug 01 2014
Follow @CSA_Speakers
Entrepreneur, CEO and MD at iris Middle East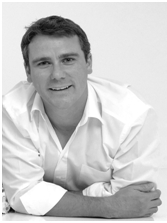 Scott Feasey is CEO and Managing Director at iris ME (formerly Expression FZ LLC), one of the world's largest independent advertising networks and the pioneers of "Brand Participation". Iris offers integrated marketing solutions including advertising, corporate identity, promotions, direct marketing and interactive media. The award winning agency has a consistent history of achievement within diverse organisational structures from start-ups, to mid size regional companies to global corporations.
"Today, there are TWO kinds of brands. Participation brands and dying ones"

In detail

Scott holds a degree in Business and Psychology from the University of Leicester and diplomas from the Institute of Sales Promotion and the Institute of Direct Marketing. He sits on the Advisory Council Board of the American University in Dubai and lectures at other schools. Before setting up his own company, Scott worked for Saatchi & Saatchi as Group Account Director and Marketing Director, responsible for half of the agency's clients around the globe. He was responsible for new business wins, including initial client brand planning and strategy.


What he offers you

With a multi-discipline background built up over 18 years at major network agencies in London and the Middle East, Scott has an extensive knowledge and gives important insights into delivering integrated marketing solutions for leading brands. An entrepreneur that set up his own agency, Scott knows what it takes to build a successful and profitable company.



How he presents

Scott is a lively and funny speaker who is passionate about brand marketing and being the best at what you do.
Comments Off on Scott Feasey