Jul 28 2014
Follow @CSA_Speakers
Neuromarketing Expert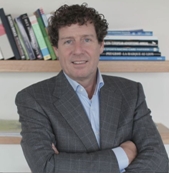 Martin de Munnik is a Neuromarketing Expert who co-founded Neurensics in 2011, undoubtedly the most innovative neuromarketing company in the world. Using fMRI techniques, on a monthly basis they study dozens of marketing stimuli, recently also in the U.S. This new discipline in marketing research offers a spectacular insight into consumer behaviour and even predicts purchase intent.
"Since his first day in advertising Martin de Munnik has been interested in how it works."

In detail

Martin De Munnik's broad background and unique neuromarketing expertise make him an inspirational strategist in demand by companies around the world, advising them on developing profitable marketing and branding strategies. De Munnik routinely holds workshops and lectures on topics such as, how the consumer brain works, activating the "buy button" and practical applications for the latest neuropsychological findings in marketing.


What he offers you

With examples taken from his own studies, Martin explains how the consumer brain functions and provides audiences with tips and tricks that they can put into practice tomorrow.


How he presents

His thirst for knowledge and understanding, his broad background and years of experience make him an inspiring strategist who advises national and international companies in developing profitable brands.
Comments Off on Martin de Munnik