Jul 19 2017
Follow @CSA_Speakers
Former President of Estonia, Thought Leader e-Government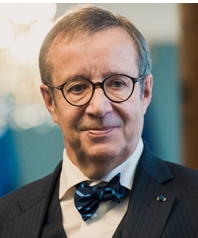 Toomas Hendrik Ilves served as the fourth President of Estonia from 2006 until 2016.Ilves worked as a diplomat and journalist. In 2017 he joined Stanford University as a Visiting Fellow.
"A global thought leader of e-government & cyber security"

In detail

From 1993 to 1996 Toomas Hendrik Ilvesserved in Washington as the Ambassador of the Republic of Estonia to the USA and Canada and from 1996 to 1998, he was the Minister of Foreign Affairs of Estonia. After a brief period as a Chairman of the North Atlantic Institute in 1998, he was again appointed Minister of Foreign Affairs, serving until 2002.From 2002 to 2004, Mr. Ilves was a Member of the Estonian Parliament; in 2004 he was elected a Member of the European Parliament, where he was Vice-president of the Foreign Affairs Committee.

ToomasHendrik Ilvesgraduated from Columbia University in New York City in 1976 and received his Master's degree in Psychology from the University of Pennsylvania in 1978.


What he offers you

President Ilves is a global thought leader in the fast-emerging and crucial area of e-government and cyber security. As one of the key individuals driving Estonia's world-renowned program of digital public policy, few are as well-placed as he to throw light on how to bridge the gap between the technical and policy-making worlds, and the link between digital and economic development


How he presents

ToomasHendrikIlves is an experienced speaker and seminar leader on platforms around the globe. Toomas is also an effective performer with a clear and valuable message.
Comments Off on Toomas Hendrik Ilves