Dec 12 2016
Follow @CSA_Speakers
The Seventh, & First Female, President of Ireland & Former UN High Commissioner for Human Rights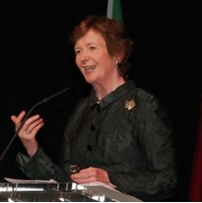 Dr. Mary Robinson has spent most of her life as a human rights advocate. She has fought for social change, arguing landmark cases before the European Court of Human Rights and the European Court in Luxembourg as well as in the Irish courts. A committed European, she also served on expert European Community and Irish parliamentary committees. She is currently the President of Realizing Rights: The Ethical Globalization Initiative, a member of the Elders, former Chair of the Council of Women World Leaders and a member of the Club of Madrid. She is chair of the GAVI Alliance Board and President of the International Commission of Jurists.
"Mary Robinson has received widespread recognition for her efforts in the international arena"

In detail

Mary Robinson (née Bourke) was educated at the University of Dublin (Trinity College), King's Inns Dublin and Harvard Law School to which she won a fellowship. She has outstanding legal qualifications and has worked in the area of human rights with special expertise in constitutional and European human rights law. Among the numerous international activities relating to human rights, she served as Special Rapporteur to the Interregional Meeting organised in 1993 by the Council of Europe on the theme "Human Rights at the Dawn of the 21st Century", as part of its preparation for the 1993 Vienna World Conference on Human Rights.


What she offers you

Mary Robinson continues to bring attention to international issues, charting a course for globalization that is fair, just and benefits all. She is widely recognised for having developed a new level of engagement between Ireland and the developing world during her Presidency. She was the first head of state to visit famine stricken Somalia, and the first to visit Rwanda after the genocide. Since leaving the United Nations in 2002, she has continued to champion developing world issues through the founding of Realizing Rights, an ethical globalisation initiative focusing on developing fair and equitable trade, strengthening responses to HIV/AIDS and shaping more humane migration policies.


How she presents

The recipient of numerous honours and awards throughout the world, Mary Robinson is a highly respected and powerfully emotive speaker and a recognised pioneer for her work on climate change and its effects on international human rights. She is the superb example of a woman politician who puts her humanity very much at the forefront of her politics.
Comments Off on Mary Robinson