Mar 20 2013
Follow @CSA_Speakers
Across Technology Managing Partner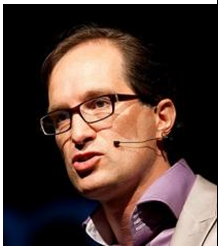 Peter Hinssen is one of Europe's thought leaders on the impact of technology on our society. He collaborates with organisations in the areas of IT Strategy, Transformation, Fusion and Coaching, in Europe as well as in North America. He is the Co-founder of Across Group and CEO of Accross Technology. An entrepreneur, lecturer and writer, he is also the former chairman of Porthus.
"He is one of Europe's esteemed thought leaders in the field of technology"

In detail

Peter has a master's degree in Telecommunications and Electronic Engineering from Ghent University, Belgium. After graduating he joined Alcatel Telecom working in the Multimedia Research Centre. He was involved in the design and implementation of Interactive Television. In 1995, he left Alcatel to found e-COM Interactive Expertise, one of the leading Internet and e-commerce consultancy firms in Belgium. In 2000, Peter became Entrepreneur in Residence with McKinsey & Company, with a focus on Technology enabled Innovation, and on the relationship between business and IT.

What he offers you

Peter is a coach to executives, assisting them in the development of innovation perspectives. He develops executive workshops and awareness sessions to bridge business challenges with IT solutions and to leverage the innovation potential of IT.

How he presents

His presentations are always a wake-up call, making you think about things differently. Peter is a born entertainer, mixing humor with personal anecdotes and insights in the way IT and business work.


Continue Reading »
Comments Off