Sep 28 2012
Follow @CSA_Speakers
Founder of dm-drugstores, Entrepreneur of the Year 2008 and Leadership speaker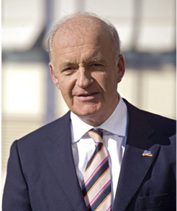 Götz Werner is one of the most outstanding managers in the German retail industry. He is founder, shareholder and board member of the dm-drugstore and was the CEO for 35 years. The company has shops in 11 European countries and the company philosophy has a holistic approach. He is considered a humanist and an anthroposophist and was named "Waldorf-Discounter" by Manager Magazine.
"One of Europe's most successful holistic entrepreneurs"

In detail
From 2003 to 2010 Mr. Werner headed the Interdisciplinary Institute for Entrepreneurship at the University of Karlsruhe. He also founded the "Unternimm die Zukunft" Initiative and is a board member of GLS Bank. In 2010 he donated his shares to a charity organisation. In 2004 Mr. Werner received the Innovation Award for Education, in 2005 he received the Manager Award from the German Association of Entrepreneurs (BDU) and Ernst & Young named him Entrepreneur of the Year 2008. The same year Mr. Werner received the German Federal Cross of Merit and received the German Trade Award in 2010.
What he offers you
In his presentations Götz Werner explains the importance of sustainability as part of the business culture. He also describes his concepts for the future in which the person is the key for success. He thinks that business, the environment and social issues have to go hand in hand to ensure a sustainable and successful future.
How he presents
His success and charisma make Götz Werner a highly sought after speaker at national and international conferences.
---
Topics
Leadership through Dialog (Dialogische Führung)
Motivation through Yourself
Ethic in Business
The Challenges of Globalisation
Social Responsibility and Commitment
The Benefits of a Holistic and Sustainable Business
---
Publications
2010
Freiheit, Gleichheit, Grundeinkommen (coautor)
2010
Die Herausforderungen der Globalisierung (coauthor)
2007
Das Bedingungslose Grundeinkommen
2007
Einkommen für alle
2006
Führung durch Mündige
2004
Wirtschaft, das Füreinander leisten
2002
Dialogische Führung
Download speaker's profile in .pdf
---
Contact Götz Werner for keynote speech:
To book Götz Werner call: + 359 888 308180
Send an email
Or fill in the form bellow:
---
Comments Off