Sep 24 2012
Follow @CSA_Speakers
Founder of the OBI DIY-Stores and Business Development speaker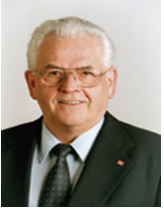 Manfred Maus is the founder of the OBI DIY Stores in Germany. He was Chief Executive until 2000 and Chairman of the Supervisory Board, a position he held until 2004. Under his leadership the company became one of the world's largest DIY retailers. Mr. Maus is considered a pioneer in the introduction of franchise systems, unknown in Germany to that date. Since 2006 he is Member of the Business Advisory Board of the Luxemburg based biotech company Diagenics.
"One of Germany's Business Visionaries"

In detail
Mandred Maus received the "Goldenen Zuckerhut" award in 1997 as a Manager with Vision and was named "Eco-Manager" in 1998. His innovative business ideas gained him the Order of Merit of the Federal Republic of Germany and the HDE Lifetime Award. He co-founded the German and European Franchise Association and served as its President. Mr. Maus is a business advisor to several national and international organisations.
What he offers you
In his presentations Manfred Maus discusses the basis of self-organization and shows how to define the structure for a successful business philosophy. He particularly underlines the importance of ethical leadership as one of the keys for success.
How he presents
His enlightening presentations make Manfred Maus a sought after speaker at national and international conferences.
---
Topics
Leadership Based on Values
Family Businesses
The Difference Between a Good And an Excellent Organisation
Franchise Companies
Happy Employees – Happy Clients
Ethic and Values in the Business Culture
---
Publications
1995
Wie viel Management braucht der Mensch. Abschied vom Machbarkeitswahn
1993
Die Chance Innovation. Wie Sie Wandel mit Mitarbeitern leben und gestalten (coauthor)
1992
Auf der Suche nach den besten Geschäftsideen (coauthor)
Download speaker's profile in .pdf
---
Contact Manfred Maus for keynote speech:
To book Manfred Maus call: + 359 888 308180
Send an email
Or fill in the form bellow:
---
Comments Off