Sep 19 2012
Follow @CSA_Speakers
CEO and Owner of Hipp and Business Development speaker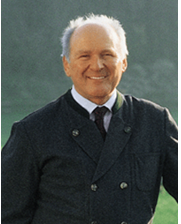 Claus Hipp is the CEO and owner of the largest organic baby food manufacturer, Hipp. He pioneered the market for more than 50 years and converted the family business into one of the first organic food producers in Europe with more than 2,000 employees. Under his leadership HiPP baby foods not only grew into one of the most popular brands but also became a symbol of entrepreneurial operations in line with ecological, economic and social sustainability.
"Claus Hipp is a true business visionary"

In detail
In addition to his business activities, Claus Hipp was President of the Chamber of Industry and Commerce for Munich from 1998 to 2004 and is now its Honorary President. He is Honorary President of the German-Russian Chamber of Commerce in Moscow, Honorary Consul of Georgia for Bavaria and Baden-Wuerttemberg and since 2008 President of the German Business Association in Georgia. Mr. Hipp teaches as a professor at several universities. In 1995 he received the German Federal Cross of Merit, 1. Class.
What he offers you
Drawing upon his wealth of experience as a CEO and business owner Claus Hipp explains to audiences around the world the role that business ethics played in transforming Hipp from a family business to a multinational organization. He shows how it is possible to grow a profitable business and still be ethically and socially responsible by integrating revolutionary environmental management systems with traditional business models.
How he presents
His outstanding business career and enlightening presentations make Claus Hipp a sought after speaker at national and international conferences.
---
Topics
Business Ethics
Family Businesses
Ethics and Sustainability
Leadership
Download speaker's profile in .pdf
---
Contact Claus Hipp for keynote speech:
To book Claus Hipp call: + 359 888 308180
Send an email
Or fill in the form bellow:
---
Comments Off