Sep 12 2012
Follow @CSA_Speakers
Outstanding Business Leader and Customer service speaker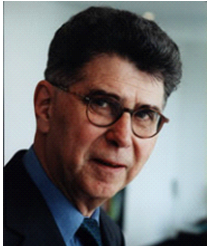 Dr. Heinz Dürr is one of Germany's most prominent business leaders. He is Chairman of the board of Dürr AG, Krone GmbH and the Carl-Zeiss-Stiftung. He is also on the board of various top leading organisations and honorary member of many institutions and associations in economy and culture.
After his studies at the Technical University in Stuttgart, Heinz Dürr initially assumed responsibility for the technical management of the family business in Brazil and India and later for the technical management of the whole company. He finally became the Managing Director of Dürr AG. Between 1975 and 1999 he was Chairman of the union for the metal industry in Baden-Württemberg, Chairman of the board at AEG, member of the board at Daimler Benz AG and also Chairman of the board at Deutsche Bahn (German Railways) AG.

Whilst being Chairman of the board, Deutsche Bahn was reformed in 1994: Deutsche Bundesbahn and Deutsche Reichsbahn merged and became Deutsche Bahn AG, known as "the organisation of the future". According to the economic press, Dürr successfully navigated Deutsche Bahn on its trail to success.
In 2001 Dürr introduced the 'Heinz Dürr Innovation Award' for employees and teams at Dürr AG to acknowledge teamwork, creativity and commitment. As a result of their innovative performance, project-teams are receiving this award for achieving ab improvement of Dürr AG's market position.
Dr Dürr is engaged in numerous honorary positions. In 1994 he was awarded the German Order of Merit ('1. Klasse') and in 1996 he received the honorary doctorate from Rheinland Westfalen Technical University. In 2002 he was awarded the honorary service medal in Berlin.
Dr. Heinz Dürr is a particularly charismatic speaker. As a distinguished and outstanding business leader, Dürr's unique knowledge and experience will inform, inspire and motivate audiences.
---
Topics
Marketing
Start-ups
Motivation
Consumer Services
New Technologies
Mentoring
Restructuring
Download speaker's profile in .pdf
---
Contact Dr. Heinz Dürr for keynote speech:
To book Dr. Heinz Dürr call: + 359 888 308180
Send an email
Or fill in the form bellow:
---
Comments Off