Aug 10 2012
Follow @CSA_Speakers
Founding Director of Zaha Hadid Architects and Architects speaker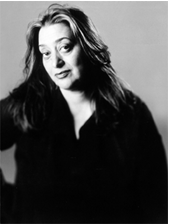 Zaha Hadid, founding partner of Zaha Hadid Architects, was awarded the Pritzker Architecture Prize in 2004 and is internationally known for her built, theoretical and academic work. Each of her dynamic and innovative projects builds on over thirty years of revolutionary experimentation and research in the interrelated fields of urbanism, architecture and design.
"A leading expert on Innovation"

In detail
Zaha studied architecture at the Architectural Association from 1972 and was awarded the Diploma Prize in 1977. She became a partner of the Office for Metropolitan Architecture, and later led her own studio at the AA until 1987. Zaha's work was the subject of a critically acclaimed exhibition at New York's Solomon R. Guggenheim Museum in 2006 and showcased at London's Design Museum in 2007. Zaha's recently completed projects include the Nordpark Railway stations in Innsbruck, Mobile Art for Chanel in Hong Kong, Tokyo and New York, the Zaragoza Bridge Pavilion in Spain and the Burnham Pavilion in Chicago.
What she offers you
Zaha inspires business leaders to adopt a creative and innovative management approach.
How she presents
Zaha is an intelligent and direct presenter, with a calm and fluent speaking style.
---

Watch a video presentation of Zaha Hadid

---
Topics
Architecture
Innovation
Creativity
Download speaker's profile in .pdf
---
Contact Zaha Hadid for keynote speech:
To book Zaha Hadid call: + 359 888 308180
Send an email
Or fill in the form bellow:
---
Comments Off