Jun 20 2012
Follow @CSA_Speakers
Wine Expert, Author and TV Personality and Wine speaker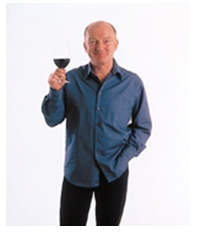 Oz Clarke first became a household name as a presenter of BBC TV's Food and Drink since then he has appeared on numerous other television shows. As well as his work as a broadcaster Oz hosts many wine tastings throughout the year and each year he makes personal appearances at the BBC Good Food Show at the NEC and BBC Festive Good Food Show in London.
"Oz is a cheery character who makes a great effort to understand the audience – he is superb"
In detail
Oz Clarke's wine career began when he captained the wine-tasting team for Oxford University. After graduating, Oz spent a number of years as an actor before turning to writing professionally in 1984, Oz was by then a leading West End actor (playing all the men in the Mitford Girls, Sweeny Todd and Peron in Evita). Nowadays Oz appears frequently on television and his wine books and guides are best-sellers. He has been awarded International Wine Personality of the Year along with James May at the International Wine Challenge Awards 2009. Oz also won the 2009 Louis Roederer International Wine Writers' Awards Oz as the winner of the International Wine Book 2009 for his book Bordeaux.
What he offers you
A charismatic and popular television personality, Oz adds his own special touch to any event with his affable persona and encyclopaedic knowledge of wines.
How he presents
Oz is an entertaining speaker and a delightful host. He takes great care preparing for his presentations and ensures that audiences always have a great time.
---
Topics
Host
Wine Tasting
Food and Drink
---
Publications
Pocket Wine Book 2010
Oz Clarke 250 Best Wines 2010
Oz Clarke 250 Best Wines 2009
Oz Clarke's Wine Guide
Oz Clarke's New Essential Wine Book
Sainsbury's Regional Wine Guides
Sainsbury's Pocket Book of Wine.
Oz Clarke's New Classic Wines
Let Me Tell You About Wine
Download speaker's profile in .pdf
---
Contact Oz Clarke for keynote speech:
To book Oz Clarke call: + 359 888 308180
Send an email
Or fill in the form bellow:
---
Comments Off