May 14 2012
Follow @CSA_Speakers
The Father of Guerrilla Marketing and Marketing speaker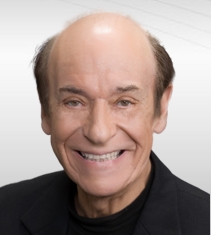 Jay Conrad Levinson is the founder of Guerilla Marketing and one of the leading figures in the marketing world. Also the author of the best-selling marketing series in history, Guerrilla Marketing, plus 30 other business books, selling over 14 million copies. His Guerrilla concepts have influenced marketing so much that today his books appear in 41 languages and are required reading in many MBA programs worldwide.
"Jay is one of the foremost business marketing experts in the world." Entrepreneur Magazine
In detail
Jay taught Guerrilla Marketing for ten years at the extension division of the University of California in Berkeley. He was a practitioner of it in the United States as Senior Vice-President at J. Walter Thompson and in Europe as Creative Director at Leo Burnett Advertising. He has written a monthly column for Entrepreneur Magazine, articles for Inc. Magazine and online columns published monthly on the Microsoft and GTE websites.

What he offers you
Guerrilla Marketing has become a landmark book in 41 languages for one simple reason: it works like no other marketing: to maximize your profits and minimize your investment. Guerrilla Marketing is the best known marketing brand in history and Jay is sought after to deliver this message.
How he presents
Jay will clarify marketing, excite and inspire the audience with stories and tactics of guerrilla marketing, and create an aura of excitement at the opportunity to breathe life into his techniques immediately, seasoning with an extra helping of humour. His presentations are tailored for each audience he addresses.
---
Watch video presentation of Jay Conrad Levinson

---
Topics
Advertising
E-business
Entrepreneurship
Marketing
Branding
Motivation
---
Publications
2005
Guerrilla Marketing for Job Hunters : 400 Unconventional Tips, Tricks, and Tactics for Landing Your Dream Job2004
Guerrilla Retailing
Guerrilla Marketing for Consultants: Breakthrough Tactics for Winning Profitable Clients
2003
Guerrilla Marketing for Free: Dozens of No-Cost Tactics to Promote Your Business and Energize Your Profits
1998
Guerrilla Marketing : Secrets for Making Big Profits from Your Small Business
Download speaker's profile in .pdf
---
Contact Jay Conrad Levinson for keynote speech:
To book Jay Conrad Levinson call: + 359 888 308180
Send an email
Or fill in the form below:
---
Comments Off