Jul 01 2011
Follow @CSA_Speakers
Director of the James Martin 21st Century School at the University of Oxford and Futurists speaker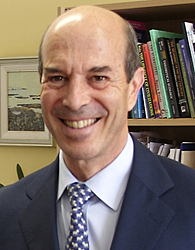 Prof. Ian Goldin was Vice President of the World Bank (2003-2006) and prior to that the Bank's Director of Development Policy (2001-2003). He served on the Bank's senior management team, and was directly responsible for its relationship with the UK and all other European, North American and developed countries. He led the Bank's collaboration with the United Nations and other partners. As Director of Development Policy, Goldin played a pivotal role in the research and strategy agenda of the Bank.
"From 1996 to 2001 he was Chief Executive and Managing Director of the Development Bank of Southern Africa and served as an adviser to President Nelson Mandela."

In detail
He succeeded in transforming the Bank to become the leading agent of development in the 14 countries of Southern Africa. During this period, Goldin served on several Government committees and Boards, and was Finance Director for South Africa's Olympic Bid. Previously, Goldin was Principal Economist at the European Bank for Reconstruction and Development (EBRD) in London, and Program Director at the OECD Development Centre in Paris, where he directed the Programs on Trade, Environment and Sustainable Development.
What he offers you
Prof. Ian Goldin is an outstanding speaker on global future trends in technology, science, climate change, demography and other factors that will have an impact on corporations and government. Goldin has received wide recognition for his contributions to development and research, including having been knighted by the French Government and nominated Global Leader of Tomorrow by the World Economic Forum.
How he presents
In Ian Goldin's highly respected presentations he gives fascinating insights into a variety of global issues.
---

Watch a video presentation of Prof. Ian Goldin
---
Topics
Science and Society in the 21st Century: Challenges to Policy
21st Century Challenges for the Global Company
Future Trends
Science and Technology
Globalisation for Development: Trade, Finance and Aid
Humanity at the Crossroads
Climate Change
---
Publications
He has published over 50 articles and 12 books, the two most well-known being;

2007 (reprint)
Globalisation for Development: Trade, Finance, Aid, Migration and Ideas
1995
The Economics of Sustainable Development
Download speaker's profile in .pdf
---
Contact Prof. Ian Goldin for keynote speech:
To book Prof. Ian Goldin call: + 359 888 308180
Send an email
Or fill in the form below:
---
Comments Off