Apr 20 2011
Follow @CSA_Speakers
Politician, Businessman, & Former VP of the European Commission and Finance speaker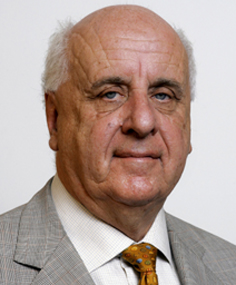 Viscount Étienne Davignon is the current Chairman of Bilderberg Group and CSR Europe, Europe's leading Corporate Social Responsibility Organisation. Since 2003 he has served as Vice-Chairman of Suez-Tractebel. He also is a crucial member of the Strategic Advisory Panel of The European Business Awards, a member of the Cercle Gaulois and a member of the Advisory Board of the Itinera Institute think-tank. He is also President of the Brussels-based think-tank, Friends of Europe. He is chairman of the board of directors of Brussels Airlines and is also member of the board of numerous Belgian companies.
"A leading businessman & thinker"
In detail
Étienne Davignon started his career at the Belgian Ministry of Foreign Affairs and became Head of Cabinet of Ministers Spaak and Harmel. He was the first President of the International Energy Agency. After leaving the civil service in 1977, he was appointed Vice President of the European Economic Community's Commission in charge of industry, research and energy until 1984. During this period he was active in the restructuring of European industry and promoting new cooperative research ventures, and negotiated on behalf of the EEC key agreements with the US, Japan and China. In 1985 he joined Société Générale de Belgique, Belgium's leading holding company, of which he became Chairman in 1989 and Vice-Chairman in 2001
What he offers you
A key figure behind the report on the future of the Atlantic Alliance, Étienne Davignon helps global audiences look at the likely fundamental changes in the EU that the financial crisis may create. President of the Bilderberg steering committee, his unique perspective provides improved understanding on future action and he offers insights into his remarkable achievements in the area of European integration, highlighting both the strengths and the weaknesses of the European Union.
How he presents
One of the most influential politicians in Europe and one of the six most central members of the Transnational Elite, Étienne Davignon is a powerful and highly regarded orator and thinker.
---
Topics
Europe's Crisis of Leadership
Global Challenges in Politics and Business
Corporate Social Responsibility
International Bank Regulation
European Growth and Integration
The Creation and Strengthening of Human Capital
Chairman of Conferences
---
Awards & Recognition
In 2004, he was given the honorary title of Minister of State
Download speaker's profile in .pdf
---
Contact Viscount Étienne F. Davignon for keynote speech:
To book Viscount Étienne F. Davignon call: + 359 888 308180
Send an email
Or fill in the form below:
---
Comments Off