Dec 08 2010
Follow @CSA_Speakers
Commercial Director of Virgin Galactic and Leadership speaker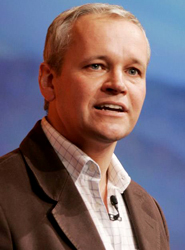 Stephen Attenborough is at the forefront of space tourism. After almost 20 years in senior business and client management roles for a top London finance company, Stephen Attenborough decided that success and excitement did not necessarily go hand in hand. A chance meeting with a top Virgin executive resulted in a grand plan being hatched to create the world's first Head of Astronaut Relations for the world's first space tourism operator – Virgin Galactic.
"Stephen Attenborough considers himself to have the best job in the world if not the universe!"

In detail
Based in London, Stephen leads Virgin Galactic's commercial operations with a team that covers sales, marketing, customer care, PR and communications. He also is responsible for workstreams that are developing and managing the astronaut experience as well as the liability, insurance and regulatory framework.
What he offers you
Stephen explains to audiences the impact new technologies have on businesses and focuses on how to drive business innovation and growth through the right combination of innovative people and technology. Stephen also entertains his audiences with the enthralling Virgin Galactic Story.
How he presents
Immensely entertaining and highly enjoyable, Stephen's presentations are a perfect mix of new ideas and sound business know-how.
---
What our clients are saying
"Stephen's matter-of-facts style and his ability to hold the audience made the presentation very enjoyable for the audience".
---

Watch a video presentation of Stephen Attenborough
---
Topics
The Virgin Galactic Story
Commercial Space Travel
New Technologies
The Future – How Space Travel Can Impact Business
Innovation
Business Start Up's
Raising Funding
---
Contact Stephen Attenborough :
To book Stephen Attenborough call: + 359 888 308180
Send an email
Or fill in the form below:
---
Comments Off