Sep 08 2010
Follow @CSA_Speakers
Actor, Author and Motivational Speaker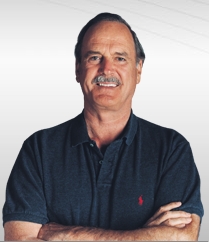 Often named the funniest man alive, John Cleese is both a versatile comedic actor and a leading business motivator. John is one of the most influential comic writers and actors of the past 40 years and can show you how elements of creativity in the business world can reap untold dividends, from recruitment, training and retaining employees, to better and more enjoyable customer service, to helping businesses innovate and accommodate change.
"Undoubtedly one of Britain's best loved comedians"

In detail
It was during his time at Cambridge that John discovered he could create comedy material. He began to notice certain patterns to his creativity. Subsequently, a good friend who was a professor of psychology at Sussex University showed John all the relevant creativity research. John then realized that current business ethos worked against creativity, and he began to study how people could become more creative within such an un-helpful environment. John started his professional show business career in 1966 when he joined in The Frost Report at the BBC, as both a performer and writer. John played his part in creating such comedy classics as Monty Python and the Holy Grail, Life of Brian, The Meaning of Life, Fawlty Towers and A Fish Called Wanda.
What he offers you
John helps businesses understand the importance of creativity and its direct relationship to all aspects of the corporate spectrum. His speech is based on his belief that creativity is fundamentally, allied with the ability to play – that is to relinquish intellectual control, so that ideas can emerge from the part of the brain which can supply them – the unconscious. He shares with audiences his comprehensive and specific messages on how to create the conditions in which one's creativity can best flourish.
How he presents
John's creativity presentations are a unique blend of humour and corporate business acumen. As a speaker he is unrivalled with his exceptional use of humour leaving audiences with a highly memorable and rewarding performance.
---
Topics
Creativity
Motivation
Leadership
Business Strategy
Achieving Goals
Human Resources
---
Publications
1999
What You Really Need to Know About High Blood Pressure (with Rob Buckman)
1996
Life and How to Survive It
1984
Families and How to Survive Them
Download speaker's profile in .pdf
---
Contact John Cleese for keynote speech:
To book John Cleese call: + 359 888 308180
Send an email
Or fill in the form below:
---
Comments Off