Sep 21 2009
Follow @CSA_Speakers
World Renowned Mind & Body Expert and Author and keynote speaker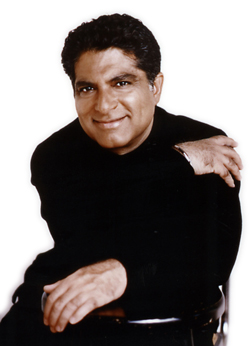 Deepak Chopra is a world renowned mind and body expert and author. He is a founding director of the Alliance for the New Humanity and joined the Gallup Organization as a senior scientist in 2005. His Wellness Radio debuted in summer 2006 exclusively on SIRIUS where each week he discusses the areas of health, spirituality, relationships and success.
"Deepak is leading the field of mind and body medicine and is changing the way we look at our health"
Sirius

In detail
Formerly the Chief of Staff at Boston Regional Medical Centre, Deepak Chopra built a successful endocrinology practice in Boston in the 1980′s. His teaching affiliations included Tufts University and Boston University Schools of Medicine. He is widely credited with melding modern theories of quantum physics with the wisdom of ancient cultures. Deepak Chopra has written over 42 books and released more than 100 audio, video and CD-ROM titles. He's the recipient of the Einstein award through Albert Einstein College of Medicine, in collaboration with the American Journal of Psychotherapy, and the recipient of the 2006 Ellis Island Medal of Honor from the National Ethnic Coalition of Organizations.
What he offers you
Often putting today's news in the context of mind and body wellness, Deepak Chopra teaches, explains, informs, nurtures and advises audiences nationwide. He provides a message of self development and personal and social transformation that will awaken the wisdom from within you.
How he presents
Highly professional and inspiring Deepak Chopra's popularity as an international presenter and keynote speaker are exemplified in an impressive list of clients. He is also part of our Top Indian keynote speakers.
---

Watch a video presentation of Deepak Chopra
---
Topics
Well Being & Spirituality
Boundless Energy
Creating Health
Alternative Medicine
Awakening the wisdom within you
---
Publications
May 2010
The Shadow Effect: Illuminating the Hidden Power of Your True Self (with Marianne Williamson and Debbie Ford)
2006
Power, Grace, and Freedom
2005
Peace Is the Way : Bringing War and Violence to an End
2004
The Book of Secrets: Who Am I? Where Did I Come From? Why Am I Here?
2003
Synchrodestiny: Harnessing the Infinite Power of Coincidence to Create Miracles
The Spontaneous Fulfillment of Desire: Harnessing the Infinite Power of Coincidence
Golf for Enlightenment: The Seven Lessons for the Game of Life
Download speaker's profile in .pdf
---
Contact Deepak Chopra for keynote speech:
To book Deepak Chopra call: + 359 888 308180
Send an email
Or fill in the form below:
---

Follow the latest news on Twitter on Deepak Chopra here



---
Comments Off