Aug 26 2009
Follow @CSA_Speakers
Global Health Expert, Unique Data Visionary and keynote speaker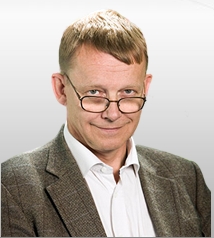 Hans Rosling is a global health expert. He is also among the Top keynote speakers of all times. Professor Hans Rosling is the founder of the Gapminder Foundation which strives to make statistical data freely available and easily understandable online. As part of Gapminder´s work, they created Trendalyzer which is a software product that unveils the beauty of statistics by turning boring numbers into enjoyable animations and interactive graphics. Now he is looking at the bigger picture, increasing our understanding of social and economic development with the remarkable trend-revealing software he created. The Foreign Magazine named him one of the "100 Top Global Thinkers of 2009".
What our clients say after booking Hans Rosling:
"Hans was a rock star. The audience loved him."

In detail
Hans Rosling began his wide-ranging career as a physician, spending many years in rural Africa tracking a rare paralytic disease (which he named konzo) and discovering its cause: hunger and badly processed cassava. He co-founded Médecins sans Frontièrs (Doctors without Borders) Sweden, wrote a textbook on global health and as a professor at the Karolinska Institut in Stockholm initiated key international research collaborations.
What he offers you as a keynote speaker
Hans' presentations are grounded in solid statistics (often drawn from United Nations data), illustrated by the visualization software he developed. The animations transform development statistics into moving bubbles and flowing curves that make global trends clear, intuitive and even playful.
How he presents as a keynote speaker
During his legendary presentations, Hans Rosling goes one step further, narrating the animations with a sportscaster's flair. He is one of the most acclaimed and unique keynote speakers. He is also part of our Most Popular keynote speakers list
---
Watch video presentation of Hans Rosling

---
Topics
Social & Economic Development
Trendanalyzer
Rural Africa
Global Health
Download speaker's profile in .pdf
---
Contact Hans Rosling for keynote speech:
To book Hans Rosling call: + 359 888 308180
Send an email
Or fill in the form bellow:
---
Comments Off