May 13 2009
Follow @CSA_Speakers
World Leading Business Strategist and Business Development speaker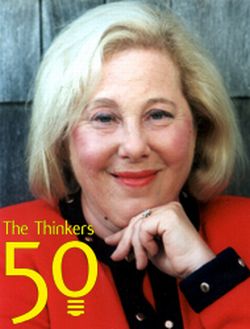 Rosabeth Moss Kanter is named among the 50 most powerful women in the world (Times of London) and the 50 most influential business thinkers in the world (Accenture and Thinkers 50). She is a renowned social scientist and writer whose work focuses on the dynamics of organizational leadership, change and confidence. As an exceptionally gifted orator and one of the world's leading scholars in business management, Prof. Kanter's themes are messages that are particularly relevant in today's economic environment.
A true and current business polymath.



Rosabeth Moss Kanter has been ranked among the top 50 most influential business thinkers.
In 2009 Thinkers 50, the global ranking of management gurus, placed her among the list of most influential thinkers.
In detail

Prof. Kanter holds the Ernest L. Arbuckle Professorship at Harvard Business School, where she specializes in strategy, innovation, and leadership for change. Former Editor of Harvard Business Review (1989-1992), Professor Kanter received the Academy of Management's Distinguished Career Award for her scholarly contributions to management knowledge in 2001, and in 2002 was named "Intelligent Community Visionary of the Year" by the World Teleport Association.
What she offers you

Centring on emerging technologies, she demonstrates that success still relies on the connection and collaboration of people. In the context of this new 'e-culture', she shows you how to harness the potential of innovation and entrepreneurship for improved business performance.
How she presents
Through her wit and intelligence Rosabeth Moss Kanter will be a thought provoking element of your event. Her message is relevant for the global recession and beyond.
---

Watch a video presentation of Rosabeth Moss Kanter

---
Topics
Leadership, Innovation and Entrepreneurship
Strategies for Competitiveness in the Global Information Age
Change in Business: how companies experience it and leaders guide it
How to use Global Trends to Increase Profits and Rebuild Economic Security
---
Publications
2009
SuperCorp: How Vanguard Companies Create Innovation, Profits, Growth, and Social Good
October 2007
America the Principled
2005
Confidence
2001
Evolve! Succeeding in the Digital Culture of Tomorrow
2000
When Giants Learn to Dance

1997
Rosabeth Moss Kanter on the Frontiers of Management
Innovation: Breakthrough Thinking at 3M, Dupont, GE, Pfizer and Rubbermaid, co-authored.
World Class: Thriving Locally in the Global Economy
1993
Men and Women of the Corporation
1992
The Challenge of Organisational Change: How Companies Experience It and Leaders Guide It
Download speaker's profile in .pdf
---
Contact Rosabeth Moss Kanter for keynote speech:
To book Rosabeth Moss Kanter call: + 359 888 308180
Send an email
Or fill in the form below:
---
Comments Off