May 30 2008
Follow @CSA_Speakers
Humanitarian, Super-model, Actress, Entrepreneur and Celebrity speaker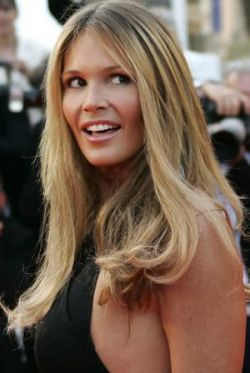 Elle MacPherson is one of the most recognizable super models in the world. Perhaps best known for her record of six covers of Sport's Illustrated's highly anticipated Annual Swimsuit issue. Time magazine ran a cover story on her career entitled The Big Elle in 1986. In addition to making her mark in the world of business, Elle is also a successful actress having starred in Sirens, Batman & Robin and The Edge and also guest starred in sitcom Friends. She enjoyed worldwide success with her own sell out calendars in 1992, 1993 and 1994 and the Your Personal Best The Body workout video that was voted the year's best by Billboard magazine in 1995.
Throughout her 25 year career, Elle has been a prominent figure in fashion, film, television and business.
In detail
Transcending the traditional career path of the super model, in 1989 Elle established her own company, Elle Macpherson Intimates in Australia. As Chairperson, she has piloted the company and today Elle Macpherson Intimates is considered one of the most highly recognizable fashion lingerie brands in all markets. More recently Elle was appointed on the Board of Directors of Hot Tuna Surf overseeing design, management and strategy.

What she offers you
Testament to her success are the various awards Elle has won including the Fig Leaves Entrepreneur of the Year Award (UK) 2005, Glamour magazine Style Icon Award (UK) 2006 and Elle magazine International Style Icon Award (Spain) 2006. Understandably, she is incredibly popular in her home country of Australia having been made the first living Australian entertainer to be put on a postage stamp in 1999.
How she presents
Elle is a mother of two and a hugely successful businesswoman who talks with charm, wit and ability on her incredible life story, business success and motivation.
---

Watch a video presentation of Elle MacPherson
---
Topics
Elle's Life Story
Business Success
Motivation
Appearances
Supermodelling
---
Ambassadorial Roles
Elle was ambassador for;
Fashion Targets Breast Cancer 2004
The Breakthrough for Breast Cancer Campaign UK
Ambassador for the UNICEF UK Baby Friendly Initiative in 2005
Currently she is the European Ambassador for RED.
Download speaker's profile in .pdf
---
Contact Elle MacPherson for keynote speech:
To book Elle MacPherson call: + 359 888 308180
Send an email
Or fill in the form below:
---
Comments Off